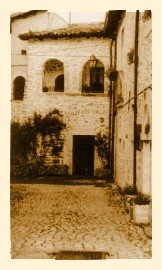 Set amidst a majestic crown of wooded mountains, Opi still preserves the features of an ancient Medieval hamlet and boasts a unique position and great archaeological importance.
According to some mythological beliefs, the name of the village derives from Ops, the Roman earth-goddess, sister and spouse of Saturn. Most probably, the name comes from the Latin word oppidum meaning "fortified castle". Dating back to the year 1000, the village layout with its houses clustered one next to the other on the rocky edge actually forms a sort of defensive wall.
(adapted from Uomini e territorio by C. Savastano-Edigrfital)
Opi features many places of interest including the 17th-century Town Hall, the baroque chapel of S. Giovanni Battista and the church of S. Maria Assunta with its 12th-century towering belfry. The church, repeatedly destroyed by earthquakes, was entirely rebuilt in the 17th century and holds three anonymous 19th-century oil paintings depicting the Baptism of Christ, the Beheading of John the Baptist and the Purgatory.
.