Services

Contacts:

Links:


The village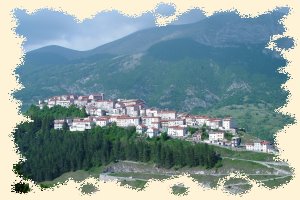 Set amidst a majestic crown of wooded mountains, Opi still preserves the features of an ancient Medieval hamlet and boasts a unique position and great archaeological importance.
Continuous -->
The National Park

The Abruzzo National Park (recently renamed National Park of Abruzzo, Lazio and Molise) was originally a Royal Game Preserve created to protect the most endangered species. The Autonomous Board of the Abruzzo National Park was established in 1922 out of private initiative and included the mountainside of Val Fondillo belonging to the municipality of Opi, known as La Camosciara.
Continuous -->
History

Human settlements in the surroundings of Opi date back to ancient times as confirmed by many archaeological relics found in the Val Fondillo Necropolis, the remains of a fortified hamlet on the site of the present-day village, and presumably the ruins of a temple in the area of Casali and Fonte delle Lecine.
Continuous -->
Traditions

Local festivities are mainly inspired by traditional rituals as religious processions that, apart from their spiritual value, still hold remarkable cultural significance within the local customs and traditions.

Continuous -->
Tourism

At the foot of thick beech-forests covering Mt. Tranquillo, Serra Traversa and Serra del Re, lies the Macchiarvana Plateau, one the favourite venues for cross-country skiing lovers. In summer a colourful blossom of narcissi, wild orchids and many other rare species.


Continuous -->